Those Dirty Comics

8 Pager History & Background


Collecting Vintage Tijuana Bibles

Tips For New Collectors


Tijuana Bible Library

Eight pagers from our collection


1930's Blackjack Original Art

Rare Original drawings discovered


New Tijuana Bibles For Sale

Pick up some for your next party


Index of other Articles

A Directory of Tijuana Bibles Articles


16 Pagers - Comics Review

Classic Double Sized Comics


Sex in Comics

by Donald H.Gilmore Phd.


Vintage Tijuana Bibles for Sale

Golden Age Originals You Can Buy

TJ Ts Now Available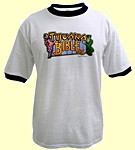 Email TijuanaBible.org

With actual newspaper sequences where he dresses as a woman, and even marries the villain, Popeye the Sailor was no stranger to outrageous sexual situations. His coterie of offbeat characters hung around the waterfront dive of a cook named Roughhouse.